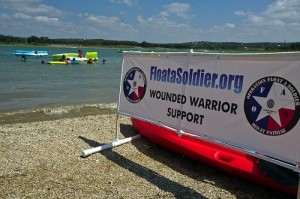 This summer over 300 copies of The Road that Takes Me Home have been included in gift bags distributed by a ministry that serves wounded military members and their families.
Operation Float a Soldier serves wounded military members who have been wounded in battle, many who suffer very serious wounds, from missing limbs to major burns. It is their goal to give these brave men and woman the opportunity to take a break from grueling rehab at the hospital, and enjoy a day of fun, fishing, floating and fellowship.  As the soldiers are healing in body, mind and soul this ministry endeavors to be a part of that healing process. They provide a great day of adventure on Canyon Lake that includes: boating, fishing, a wonderful Texas brisket lunch, some water sports, and relaxation.
Emmaus Christian Fellowship finds great satisfaction in helping ministries like Operation Float a Soldier.