More than a few people have requested additional copies of The Road that Takes Me Home to give as Christmas gifts in 2011.  Having been greatly impacted by the songs themselves, they are eager to share them with both believing and non-believing family and friends.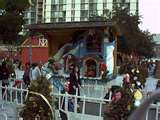 One couple from the San Jose area of California used the CD as part of their street evangelism. Just this past Saturday morning, they set out with their children ready to engage people in San Jose's annual Christmas in the Park.  This
December-long event is filled with festive decorations and varied activities for individuals and families.  It draws a lot of people.
Francesca and Jose approached people asking them if they would take a Christmas quiz. This was meant to show them how little they actually knew about Christmas:  its origin and why it is celebrated.  They reported many interesting conversations where they were able to engage people in one-on-one evangelism.  When each encounter was done, they'd share The Road that Take Me Home CD as a "thank you" gift for taking the time to talk with them.  Francesca reports that many were grateful that someone took the time to speak with them.  She would end the encounter by saying,
 I do want to thank you too for listening to me. I have a gift for you! A friend of mine made this CD. Joyfully I gave them a copy of The Road that Takes me Home by Dorothy Schwartz. I also gave them each a copy of the Christmas Story. I told them to share them with their families. They received the CD and the story and said they would share them.
This is exactly what we envisioned when we began this project in late 2010 giving Christians tools to reach the lost.  Thanks to the generous donations of those who see the value in sharing the Gospel through music, we have CDs on hand to provide ministries, families, and individuals a means to help them share the Good News of Jesus Christ!
Take advantage of our special — 6 CDs for a donation of $50 and make use of this great tool to share your faith!